State Geographic Names Authorities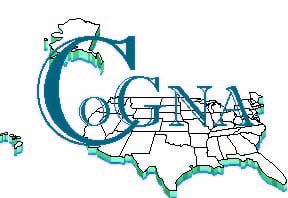 This page contains links to a representative for each of the recognized state geographic names authorities in the United States, including two U.S. Territories. These boards, committees, and advisers cooperate with the U.S. Board on Geographic Names in the national standardization process. In states with no official board or committee an adviser has agreed to provide expertise and information about names in their state to assist in the standardization process. In addition, here are links to the
U.S. Board on Geographic Names, the
Geographical Names Board of Canada, and to the
American Name Society.
Many states have official geographic names boards while other states have only an expert adviser assigned or voluntarily reviewing name proposals for their states. One mission of CoGNA is to encourage all state governments to take an active role in the geographic name decision process by maintaining their own name authorities who, in turn, recommend names to the federal board using official naming and policies. In addition, CoGNA encourages use of the official names in GNIS at all levels of government and the public. CoGNA recommends that State names authorities promote throughout state government and the citizenry an awareness of the importance of and procedures for geographic name standardization.


STATE GEOGRAPHIC NAMES AUTHORITIES
Alabama Geographic Names Authority
Dr. Sandy Ebersole, Chairman
Geological Survey of Alabama
Geographic Names Committee
Tuscaloosa, AL 35486-2852
Telephone: (205) 247-3613
E-mail:
sebersole@gsa.state.al.us
Alaska Board on Geographic Names
Alaska Department of Natural Resources
Division of Parks Office of History & Archaeology
550 West 7th Avenue, Suite 1310 Anchorage, AK 99501-3565
Telephone: (907) 269-8715
E-mail:
judy.bitner@alaska.gov
Arizona State Board on Geographic & Historic Names

Ryan Ehrfurth
Digital History and Maps Librarian
Arizona Memory Project: Special Maps Collection
Researh Support, Arizona State Board on Geographic and Historic Names
State of Arizona Research Library
Arizona State Library, Archives and Public Records
1919 W. Jefferson St.
Phoenix, AZ 85009
Telephone: (602) 926-3367
E-mail: rehrfurth@azlib
Arkansas Geographic Names Authority
Scott M. Ausbrooks, Director & State Geologist
Arkansas Geological Commission
Vardelle Parham Geology Center
3815 West Roosevelt Road
Little Rock, AR 72204
Telephone: (501) 296-1880
Fax: (501) 663-7360
E-mail: scott.ausbrooks@arkansas.gov
California Advisory Committee on Geographic Names

The purpose of the California Advisory Committee on Geographic Names is to provide recommendations to the U.S. Board on Geographic Names
Solomon McCrea, Chairperson
California Geological Survey
801 K Street, MS 13-40
Sacramento, CA 95814
Telephone: (916) 323-9284
Fax: (916) 323-9264
Email:
solomon.mccrea@conserevation.ca.gov
Colorado Geographic Naming Advisory Board
Ms. Johnie Abad
Colorado Dept. of Natural Resources
Phone: (303) 866-3311 Ext. 8670
Email: Johnie.A.Abad@state.co.us
Connecticut Geographic Names Authority
Margaret A. Thomas, State Geologist
Connecticut Geological Survey
Office of Information Management
Dept. of Environmental Protection
79 Elm Street Hartford, CT 06106
Telephone: (860) 424-3583
Delaware Geographic Names Authority
William S. Schenck
Delaware Geological Survey
University of Delaware
Newark, DE 19716-7501
Telephone: (302) 831-8262
Fax: (302) 831-3579
Florida State Board on Geographic Names
The main purpose of the Florida State Board on Geographic Names is to assist the U.S. Board on Geographic Names and offer advice to citizens and governmental entities on name related issues.
Mr. Stephen Hodge, Director
Technical Assistance Program
Florida Resources & Environmental Analysis Center
Telephone: (850) 644-2882
E-mail:
shodge@fsu.edu
Georgia Geographic Names Authority
Kayla Barrett, Assistant Director for Archival Services
Georgia Archives
Telephone: (678) 364-3756
Fax: (678) 364-3781
E-mail:
Kayla.Barrett@usg.edu

Hawaii Board on Geographic Names
Leo Asuncion , Director, Office of Planning
Department of Business, Economic Development, and Tourism
Hawaii Statewide GIS Program
State of Hawaii, Office of Planning
235 S. Beretania Street, 6th Floor
Telephone / fax: (808) 587-2894 / (808) 587-2899
E-mail:
arthur.j.buto@hawaii.gov
Idaho Geographic Names Advisory Council

Rick Just, Chair
11544 W Jenilyn Ct.
Boise, Idaho 83713
208-362-9892
rickjust@rickjust.com
Illinois Geographic Names Authority
Northern Illinois University, Emeritus
Telephone: (737) 443-7502
E-mail:
onomast1@gmail.com
Indiana Geographic Names
Megan R.L. Compton, MPA
Indiana Geographic Information Officer
Indiana Office of Technology
100 North Senate Ave. Suite N551
Indianapolis, IN 46221
Telephone: (317) 234-5889
E-mail:
mcompton@iot.in.gov
Iowa Geographic Names Authority
Kathryne Clark, GIS Section Supervisor
Iowa Department of Natural Resources
Telephone: (515) 725-8354
E-mail:
kathryne.clark@dnr.iowa.gov
Kansas Geographic Names Authority
Ivan Weichert
Kansas Geographic Names Authority
1932 SW Collins AVE
Topeka, KS 66604-3223
E-mail:
ivan.weichert@gmail.com

Kentucky Geographic Names Committee
Geography & GIS Instructor
Kentucky Geographic Names Committee Chair
Department of Geography and Geology
Western Kentucky University
Bowling Green, KY 421011906 College Heights Blvd.
Telephone: (270) 745-4555
E-mail:
scott.dobler@wku.edu
Louisiana Geographic Names Authority
Darryl W. Mack
GIS & Mapping, Office of Planning
Louisiana Department of Transportation & Development
P.O. Box 94245
1201Capitol Access Rd.
Baton Rouge, LA 70804-9245
Telephone: (225) 379-1283
Fax: (225) 242-4552
Email:
Darryl.Mack@la.gov

Maine Geographic Names Authority
Emily Pettit, GIS Coordinator
State of Maine Office of GIS
Augusta, ME 04330
207-624-9539
Emily.Pettit@maine.gov
24 Child Street, SHS 16
Augusta, ME 04333-0016

Maryland Geographic Names Authority
Jennifer Chadwick-Moore
Historic Preservation Information Systems Specialist
Maryland Historic Trust
100 Community Place, 3rd Floor
Crownsville, MD 21032-2023
Telephone: (410) 697-9539
E-mail:
jen.chadwick-moore@maryland.gov
Massachusetts Geographic Names Authority
Dr. Stephen Mabee, State Geologist
Massachusetts Geological Survey
Department of Geosciences
269 Morrill Science Center
University of Massachusetts
611 North Pleasant Street
Amherst, MA 01003-9297
E-mail:
sbmabee@geo.umass.edu
Michigan Geographic Names Authority
Anthony C. Olkowski
Center for Shared Solutions
Michigan Department of Technology, Management & Budget
Telephone: (517) 373-7910
Fax: (517) 373-2939
E-mail:
olkowskit@michigan.gov
Minnesota Geographic Names Authority
Mr. Kent Lokkesmoe, Director
Division of Waters
Telephone: (651) 259-5700
Minnesota Department of Natural Resource

Attn: Peter Boulay
500 Lafayette Road
St. Paul, MN 55155-4032
Telephone: (651) 296-4214
Fax: (612) 225-2208
E-mail:
pboulay@umn.edu
Mississippi Geographic Names Authority
Dr. David T. Dockery III, State Geologist
Office of Geology, Mississippi Department of Environmental Quality
P.O. Box 2279
Jackson, MS 39225
Telephone: (601) 961-5544
Fax: (601) 961-5521
E-mail:
ddockery@mdeq.ms.gov
Missouri Geographic Names Authority
Brian Rogers, Executive Secretary
E-mail: brian.rogers@sos.mo.gov
John Dougan, Chairman Designee
Missouri State Archives
Telephone: (573) 751-4236
E-mail:
john.dougan@sos.mo.gov
Montana Geographic Names Adviser
For Geographic Information Requests: geoinfo@mt.gov
Telephone: (406) 444-5354
Erin Fashoway, GIS Coordinator
Telephone: (406) 444-9013
E-mail:
efashoway@mt.gov
Nebraska Geographic Names Authority
Jill Dolberg, Deputy SHPO

Nebraska State Historical Society
1500 R Street, P.O. Box 82554
Lincoln, NE 68501-1651
Telephone: (402) 471-4773
E-mail:
jill.dolberg@nebraska.gov
Nevada State Board on Geographic Names
In March of 1985, Senate Bill 265, amended Chapter 327 of Nevada Revised Statutes and created a Board to "coordinate and approve geographic names within the State for official recommendation to the U.S. Board on Geographic Names."
Dr. Christine Johnson, Executive Secretary
New Hampshire Geographic Names Authority
Ken Gallager
New Hampshire Office of Energy & Planning
4 Chenell Drive
Concord, NH 03301
Telephone: (603) 271-2155
Fax: (603) 271-1728
E-mail:
ken.gallager@nh.gov
New Jersey Geographic Names Authority
Ron Pristas, GIS Specialist 1
Department of Environmental Protection
Division of Water Supply and Geoscience
Geoscience Evaluation & Information Section
New Jersey Geological and Water Survey
New Mexico Geographic Names Subcommittee
Zachary L. Stauber
GIS Coordinator
Enterprise GIS Section
Office of Information Technology
New Mexico Environment Department
New York State Committee on Geographic Names
Brad L. Utter, Senior Historian/Curator
New York State Committee on Geographic Names
New York State Museum
3021 Cultural Education Center
Albany, New York 122
North Carolina Geographic Names Authority
Cam McNutt

NCDEQ DWR Planning Modeling and Assessment Branch
1611 Mail Center
Raleigh NC 27699-1611
E-mail: cam.mcnutt@ncdenr.gov
North Dakota Geographic Names Authority
Claudia J. Berg, Director
State Historical Society of North Dakota
612 East Boulevard Ave.
Bismarck, ND 58505
Telephone: (701) 328-2666
E-mail:
cberg@nd.gov
Ohio Geographic Names Authority
David Blackstone, Executive Director
Ohio Geographical Referenced Program
Ohio Department of Administrative Services
GIS Support Center
77 South High Street, 19th Floor
Columbus, OH 43215
Telephone: (614) 466-4747
E-mail:
David.Blackstone@das.ohio.gov
Oklahoma Board on Geographic Na
mes

The Board was created by Oklahoma statutes in 1965 the purpose of the Oklahoma Board on Geographic Names is to make recommendations to the U.S. Board on Geographic Names [HB 810, sec. 310 (b), (4)].

Nicholas W. Hayman, Director & State Geologist
Oklahoma Geological Survey
Sarkeys Energy Center
100 E. Boyd St., Suite N131
Norman, OK 73019
Telephone: (405) 325-7968
E-mail: hayman@ou.edu
Oregon Geographic Names Board
The purpose of the Oregon Geographic Names Board is to supervise the naming of geographic features within the state of Oregon and to make recommendations to the U.S. Board on Geographic Names.

Kerry Tymchuk, Secretary
Oregon Geographic Names Board
Oregon Historical Society
1200 S.W. Park Avenue
Portland, OR 97205-2483
Telephone: (503) 306-5239
Fax: (503) 221-2035
E-mail:
kerry.tymchuk@ohs.org

Bruce Fisher, President
Oregon Geographic Names Board
5062 SE Alii Court
Milwaukie, OR 97267-1709
Telephone: (503) 653-5359
E-mail:
bruce.j.fisher@gmail.com

Champ Vaughan, Vice President & Interim Committee Chair
Oregon Geographic Names Board
17400 Holy Names Drive, Unit 519
Lake Oswego, OR 97034
Telephone: (503) 387-3204
E-mail: vaughan1843@comcast.net
Pennsylvania Geographic Names Authority
Jennifer Staub, Executive Secretary
Pennsylvania Historical and Museum Commission
Bureau of Historic Preservation
Commonwealth Keystone Building
400 North Street, 2nd Floor
Harrisburg, PA 17120-0093

Telephone: (717)787-7498
E-mail: jstaub@pa.gov
Rhode Island Geographic Names Authority

Meredith E. Brady, Associate Director
Department of Administration
Division of Statewide Planning
One Capitol Hill, 3rd Floor
Providence, RI 02908-6496
Telephone: (401) 222-5772
Fax: (401) 277-2083
E-mail:
meredith.brady@doa.ri.gov
South Carolina Geographic Names Authority
Dr. Edwin Breeden, Staff Historian/Historical Markers
State Historic Preservation Office (SHPO)
SC Department of Archives & History
8301 Parklane Road
Columbia, SC 29223
Telephone: (803) 896-6182
E-mail: ebreeden@scdah.sc.gov
South Dakota Geographic Names Authority
June D. Hansen, Chair
SD Board on Geographic Names 700 East Broadway
Pierre, SD 57501
Telephone: (605) 773-3540
Fax: (605) 773-4442 or (605) 773-3921
E-mail:
june.hansen@state.sd.us
Tennessee Committee on Geographic Names
Peter Lemiszki, Chair
E-mail: peter.lemiszki@tn.gov
Gregory H. March
Map/GIS Librarian
University of Tennessee
Map Services G21A Hodges Library
Knoxville, TN 37996
Telephone: (865) 974-3878
Fax: (865) 974-3925
E-mail: gmarch@utk.edu

Texas Geographic Names Authority
Richard Wade
Geographic Names Coordinator
Texas Natural Resources Information System
P.O. Box 13231 Austin, TX 78711-3231
Telephone: (512) 463-4010
Fax: E-mail: Richard Wade
Geographic Names Committee | Utah Division of State History

Utah State Committee on Geographic Names
Utah Division of Wildlife Resources
Telephone: (801) 538-4864
Vermont State Names Authority
Vermont State Board of Libraries
Vermont Department of Libraries
60 Washington Street, Suite 2
Barre, VT 05641
Telephone: (802) 636-0040
Attn: Geographic Naming, Cherie Yeager
E-mail:
Cherie.Yeager@vermont.gov
Virginia Geographic Names Authority
Mike Strom
Telephone: (804) 692-3739
Washington State Board on Geographic Names
Caleb A. Maki, Executive Secretary
Washington State Board on Geographic Names
Department of Natural Resources
1111 Washington Street SE
P.O. Box 47030
Olympia, WA 98504-7030
Telephone: (360) 902-1280
Fax: (360) 902-1778
E-mail:
caleb.maki@dnr.wa.gov
West Virginia Geographic Names Authority
www.wvgs.wvnet.edu

Ken Ashton, Geologist
West Virginia Geological & Economic Survey
1 Mont Chateau Road
Morgantown, WV 26508
Telephone: (304) 594-2331
Fax:
E-mail: ashton@wvgs.wvnet.edu

Wisconsin State Geographic Names Council
Mr. Max Grueneberg
Wisconsin Department of Natural Resources
Telephone: (608) 264-9203
1-888-936-7463
E-mail:
Maxwell.Grueneberg@wisconsin.gov

Wyoming Board of Geographic Names
Shelley Messer
State Engineer's Office, Surface Water Division
Herschler Building, 1-W
125 W 25th St
Cheyenne, WY 82002
Telephone: (307) 777-5801
E-mail:
Shelley.Messer@wyo.gov
U.S. Territories

Guam Geographic Names Authority
Office of the Honorable Michael Franklin Quituga San Nicolas
U.S. House Delegate
Washington, D.C. 20515-5301
Puerto Rico Geographic Names Authority
Puerto Rico Federal Affairs Administration
Office of the Governor
1100 17th St., N.W., Suite 800
Washington, D.C. 20036
Telephone: (202) 778-0710
Fax: (202) 778-0721